Incredible Inland
Dive Site - Sterkfontein Dam
Sterkfontien is a new inland dive site that is being explored and developed by Divetek. There have been a few divers that have dived in the blue waters but very few and very little exploration has taken place.
The Divetek team had just three great trips there before we decided to move our 9 meter dive boat from Sodwana and base it at Sterkfontien. We liked it that much!
We are still exploring and finding new sites and this will take a year or so. Also we don't know all the visibilities and temperatures of the various sites. So this information will be updated as we learn more.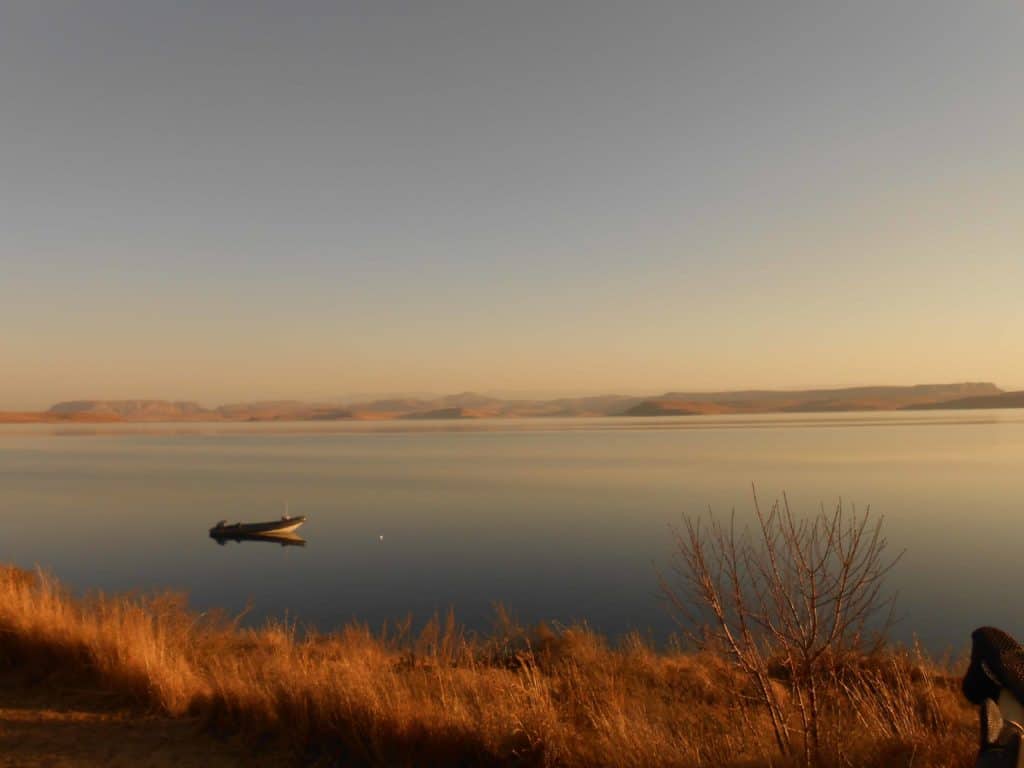 Where is it...
It is a beautiful place at the foot of the Drakensburg.
The water is 16 km long and 7 km wide with lots of inlets.
Depth we think is 90 meters at its deepest.
It is a game reserve with many species including Oribi, Mountain Reedbuck and Grey Rhebuck. So you often see game at the dive sites.
What can you see...
It has clear blue water with visibility of 5 meters in winter and up to 15 in summer. There are many fish such as yellow fish, bream and some really big barbel.
There is great topography with boulders, cliff faces and walls.
We have had some really great night dives there, full of fish and really easy.
The night dive there is the best inland night dive we have done.
There are many sunken boats to dive on and we are looking for a farm house and settlement.
Using a big sea dive boat on the dam is great fun and there are so many new sites to explore.
Temperature, Distance and Accommodation...
It IS cold in WINTER. When you first jump in you go OMG. OMG. but after a minute it wears off and its fine and you don't feel the cold.
It takes about 40 minutes to get cold on a dive so we do 30 minute dives in winter.
If there is no wind its not cold after the dive but in winter if it is windy the wind chill is awful. We have big thick water proof ponchos to be nice and cosy in any wind.
You will need a 5mm wetsuit, chicken vest, gloves and a hood. Lowest temp found so far has been 11 degrees.
In summer its north of 19 which is toasty and there are no problems with the cold.
Its only 3 hours from Johannesburg 23 km from Harrismith.
So you can leave after work on a Friday and be there in time for supper.
We stay in 8 sleeper chalets, it has a kitchen, lounge and 2 bedrooms with two beds each , upstairs is a deck/loft with 4 beds. there is bathroom toilet and a separate shower. Towels and bedding are supplied. It is no way near 5 star and is run down but simple and comfortable.
Plans for a Weekend Stay...
Leave Friday after work and drive through, the drive is easy with a dual carriageway all the way to Harrismith.
Have a Potjie supper and after lots of chatting, bed.
Up in the morning with breakfast of eggs and toast.
Get into wetsuits and prepare gear.
The boat will come to the rocks under the chalets and we load the divers. Then off across the dam to the chosen dive site.
Dive and enjoy.
Back to the chalets and walk straight to room and showers.
Either a second dive (for the really keen) or a cruise across the dam for a picnic. Where we will have light cheese bread and cold meat lunch. We also have 2 sailing boats and two bicycles that can be used by our guests. As the light falls we will have a night dive (must be Advanced or greater). After the dive, a Braai will be served. Chats and bed.
Up in the morning, breakfast and then the next dive, back by 11 latest.
Now you can have another cruise or and "add on dive" or say good byes and be back home by 3.
Costs...
DIVERS – R2500
INCLUDES:
2 Nights accommodation
2 X suppers
2X breakfasts and a lunch, unlimited coffee tea etc.
UNLIMITED DIVING and any arranged cruises.
All air fills
1 night dive including marker lights.
EXCLUDES:
NON-DIVERS – R1500
CHILDREN UNDER 12 – R800
INCLUDES:
2 Nights accommodation
2 X suppers
2X breakfasts and a lunch, unlimited coffee tea etc.
EXCLUDES:
EXTRAS:
Lift there and back R 250 (limited numbers and space).
Torch rental R 50.
Tailor made itineraries and trips can be arranged and quoted.
Bookings...
The spaces are limited on these weekends.
For updated dates of trips, please contact us.
Alternatively Click Here and Book Online.