OrcaTorch D580
The OrcaTorch D580 falls under the Torches and Lights category and is available at our Dive Shop. For more info on this item of Dive Gear, please see below:
ORCATORCH D580 is a professional underwater dive light with max 530 lumens output. Mechanically head rotary switch offers high reliability underwater. The light is compatible with two types of batteries: 1* 18650Li-ion rechargeable battery, which is economic and eco-friendly, and the 3*AAA Alkaline batteries, which is low cost and easy to get. It has 6 degrees super narrow beam, quite suitable for recreational diving as a primary light, and for technical diving as a backup light.
Uses CREE LED, max 530 lumens

Uses 3*AAA battery, compatible with 1*18650 battery

6° beam angle

Mechanically head rotary switch offers high-reliability underwater

Intelligent Over-Heat protection

Water pressure resistant construction, depth rated to 150 meters

Reverse polarity protection, to protect from improper battery installation

Over-discharge protection function

Aircraft-grade high strength aluminum material

The latest diamond grade hard-anodized seawater-corrosion-resistance finish

Two sides coated toughened glass with high water pressure resistance under deep water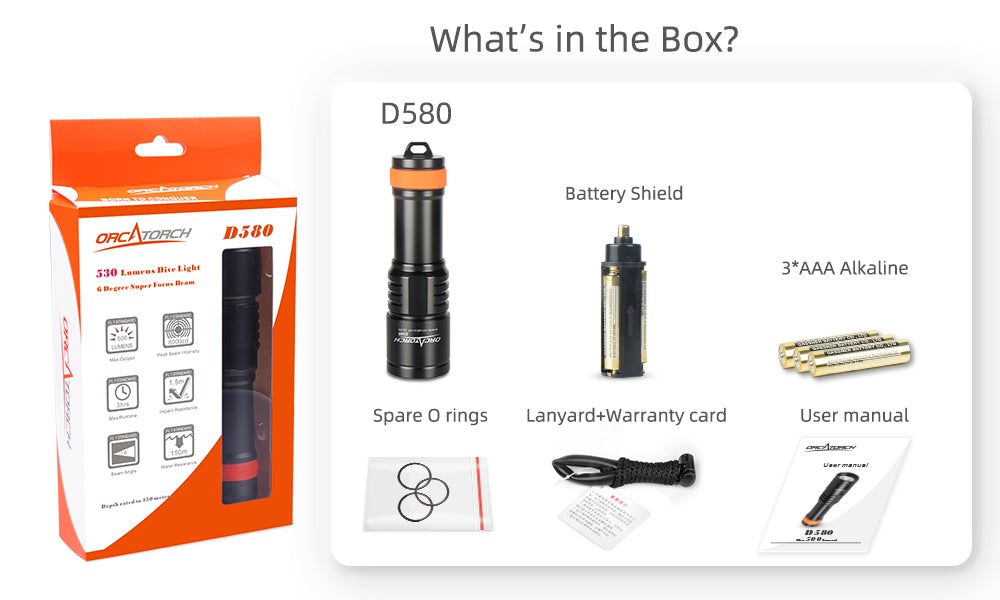 Diving Torches and Accessories:
Diving torches are a great accessory for every dive.
Not only are they necessary for Night dives, but they are fantastic for looking in little caves and overhangs.
All Divers know that we lose the colours as we dive. Carrying a little torch allows you to bring back all the colours of the reef.
Divetek carries a huge variety of Diving Torches as well as Light sources for Cameras.
We also have staff members who are very passionate about Photography. This allows them to give you the best possible advice on your camera and camera light purchase.
We carry video lights, spot lights as well as UV Lights and red lights for you to get that perfect shot underwater.
Our premier Brand for Diving Lights and camera lights is Orcatorch.