How to Choose your Gauge
Gauges are not considered the most important when selecting your Regulator, However there are many different options available with plenty of different Features.
Despite Computers coming onto the Market that have seemingly replaced the use for Depth Gauges and SPGS, it is still the opinion of many divers that a console Gauge is a Must especially as a backup SPG should a Transmitter and computer system prove to be glitchy.
Again, the sad truth is that all gauges come out of the SAME Factory. However one brand will be exorbitantly priced compared to another. The difference is purely that you're paying for the branding.
The Different Features...
SPGs...
An SPG stands for a Submersible Pressure Gauge and it does exactly that by telling the diver how much air is left in the cylinder in Bar.
When choosing an SPG, you will need to look for metal so that it will last countless knocks and still read an accurate air pressure. It is vitally important, that these are serviced and checked every year.
Despite having a dive computer and a Transmitter, an SPG is a very good piece of backup equipment to carry in case of a glitch between your Transmitter and Computer or more simply if there batteries die.
Depth Gauges...
Depth Gauges are useful to have and are found in all standard Combo II Gauges.
However, since most divers now have dive computers which accurately measure the Depth, these units have been essentially replaced.
They are nice to carry again as a backup should a computer's battery die.
Great Depth Gauges will be altitude adjustable for Divers diving at altitude and a Maximum Depth Indicator needle is a must for those divers still using dive tables to track the Nitrogen.
Compasses...
A compass has been quite a common sight on the Combo III Gauge options available and it is a very nice option to have.
However, it does make the Gauge quite cumbersome and it won't fit nicely into any Gauge Pockets on a BC. Various clips and retractor clips do solve the issue.
The other concern is that Compasses on a console are very hard to use. It makes using the compass, ensuring the lubber line is straight and that the compass is not tilted quite tricky.
Diving Computers...
Computers can also be an option in either a Combo II or a Combo III.
Computers on a console do reduce the price of buying a computer if you are buying a regulator as well so it's well worth looking into that option.
Worth looking for is a Console with a quick release so the computer can be removed from the regulator. This means it can be safely stored before the next dive.
Thermometer...
This is a nice option to have.
However if you have a dive computer then the thermometer in the computer will be more accurate.
Size...
Size of the dials – The smaller consoles are nice and compact but reduce the increments and lose accuracy. They are also not nearly as long lasting as the bigger gauges.
Our Range of Gauges:
Below we have depicted the different Gauges on the market and our best sellers in each option.
Please contact us should you need any further information or advice.
Our Best Selling Gauge...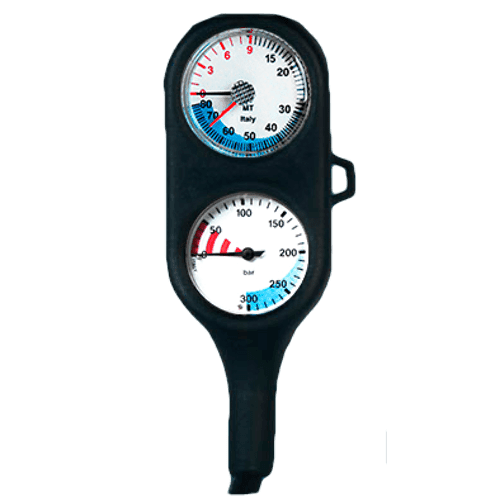 DIVETEK COMBO II GAUGE
This is our Best selling Combo Gauge. It is tough, altitude adjustable and it is easy to read. We highly recommend these units for Resorts or Dive School Gear. It isn't the best looking gauge but it is bound to outlive the majority of gauges!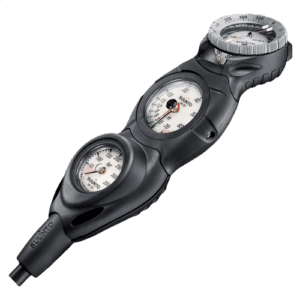 SUUNTO COMBO III GAUGE
Suunto Combo with SPG, Depth Gauge and Compass. Great Value for money. Comes standard with Miflex HP Hose.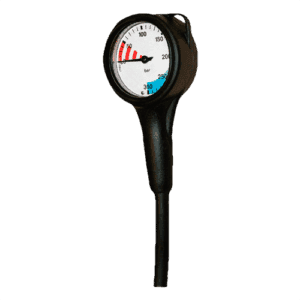 DIVETEK SPG,HOSE AND BOOT
Good, old favourite – the standard SPG, Boot and Hose Compact Unit. Fits into BC Pocket – extremely convenient.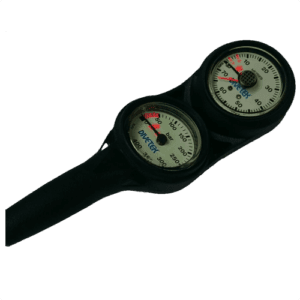 DIVETEK COMBO II COMPACT GAUGE
Great Compact Combo Unit. Gives you all the info of the Best selling combo unit just in a compact format.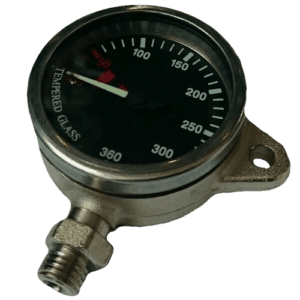 BLACK/WHITE FACE SPG WITH CLIP
Ultra Compact SPG, with a simple clip. No boot and no fuss. Comes in a white or black face.